The Settings Reading Screen includes the settings to let you decide the display of your content. You can:
Decide the main page content. Make a choice between "your latest post" or a "static page".
Adjust the number of blog pages to show at most and
Adjust syndication feeds to show at the most recent.
Choose the styling for each article in the display i.e either it can be full text or summary.
Choose to enable or disable search engine visibility.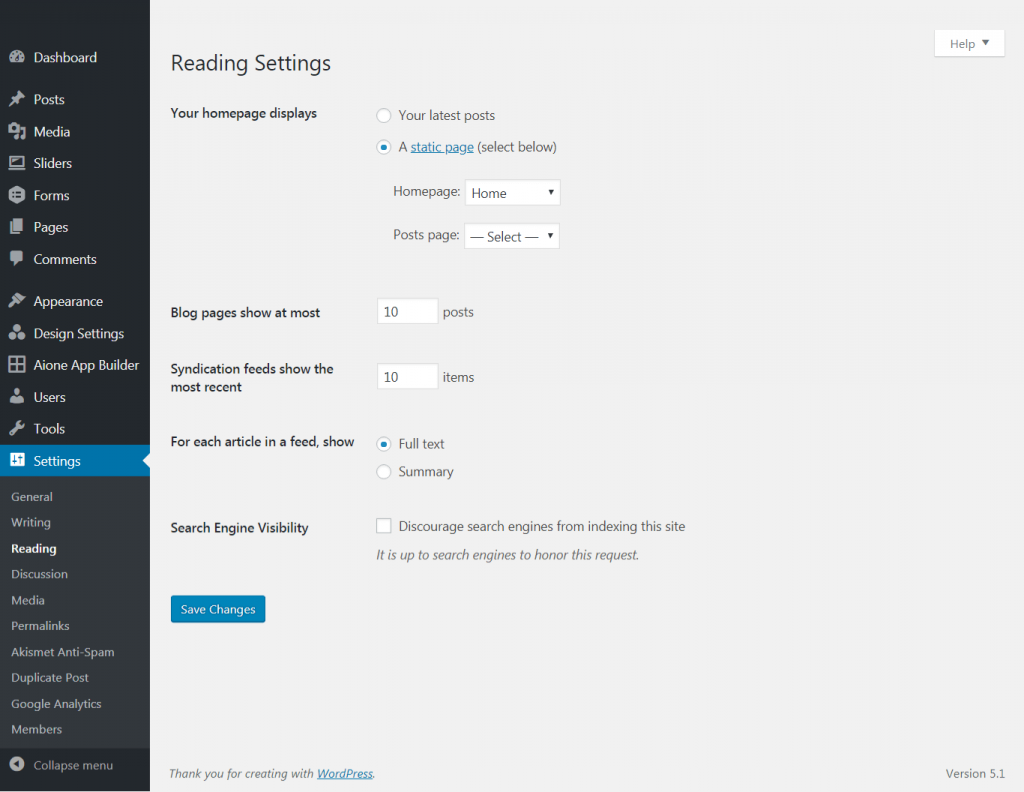 Reading Settings
Your Home Page Display
Your Latest Posts: Select this radio button to display your latest post on the home page.
A Static Page: Check this radio button to choose a static page to be displayed as the Home Page. At the same time, you need to select the page where you want to display your posts. Front and post pages will always be different.
Front Page: Select the page in the drop-down box that you want to display as the front page. In case you fail to select any page, then your blog posts will appear on both the blogs front page and on the posts page you specify. In order to create a static home page template file, name it other than home.php, for example, myhome.php.
Posts Page: In the pull-down box select the page that you want to use to display your posts. If you miss selecting any page then you will only be able to access the posts page via. categories, archives, or calendar links. Also, the password-protected pages will allow the visitor to view page without prompting the password. Further, assigned templates will be ignored and the theme index.php page will control its display.
Blog Pages show at most
Enter the number of posts that you want to display per page in your site.
Syndication feeds show the most recent
Select the number of feeds that you want to allow the people to view when they download one of your site's feed. You just need to enter the number in the input box.
For each article in the feed show
Select whether or not the feed will include full article or just a summary.
Full Text: Click this radio button to include the full content for each page.
Summary: Click this radio button to include the summary of the post.
Search Engine Visibility
You can control whether or not your site should be crawled by the robots, ping services, and spiders. You can check the box to discourage the search engines from indexing your site.